Jab Tak Hai Jaan Review: It's again an eternal love story
New Delhi, Wed, 14 Nov 2012
NI Wire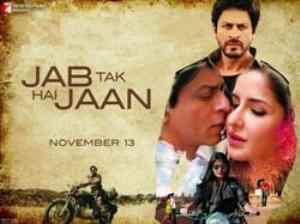 Cast: Shahrukh Khan (Samar), Katrina Kaif (Khushi), Anushka Sharma (Akira), Anupam Kher, Rishi Kapoor and Neetu Singh
Director: Yash Chopra
Producer: Aditya Chopra
Music Director: A R Rahman
Lyricist: Gulzar
Music Director: A R Rahman
Lyricist: Gulzar
Shahrukh Khan is back again with a bang. With the release of "Jab Tak Hai Jaan" this Diwali on Nov 13, Shahrukh Khan has once again proved that he is the best when it comes to romance. The last directorial film of the legendary filmmaker Yash Chopra "Jab Tak Hai Jaan" will be remembered for a long time for showing an intense love story again that is rarely seen at this time.
Starring Shahrukh Khan as Samar Anand, Katrina Kaif as Meera, Anushka Sharma as Akira, Jab Tak Hai Jaan has shown the love story of two periods but with a difference this time. The story is about Samar who is a fun-loving and jolly guy who sings songs on road, works in restaurants and do many other things in London to earn livelihood but still happy. Things starts changing when he meets Meera (Meera has a deep faith in god and commits to leave one thing every time she asks for anything from god), who approaches Samar to teach her Punjabi song, which she wants to sing for her father on his birthday. He comes to a deal with Samar that she will teach her English in return of learning Song.
In this coarse of teaching Samar also helps Meera to explore herself and finally falls in love with her. Samar proposes Meera and she refuses saying she is going to be married and they both are only friend and nothing more. But in the mean while she gets a letter from her mother Neetu Singh who eloped with his lover when she was only 12 and since then she only hated her. But after meeting her mother she realises that she is in love with Samar and the love story begins.
One day Samar meets an accident and Meera commits God that if he survives than she will never meet Samar again. Samar survives and Meera tells her about her commitment and tells Samar that she will never meet her again.
This changes the entire life of Samar and he returns to India saying that he will play with death everyday and then begins the war between Samar and God.
Samar becoms Major Samar Anand in Indian Army in bomb squad and diffuses bombs with taking any precautions. Then comes Akira (Anushka Sharma), the ultra-modern, instant make up- break up girl and a documentary maker whose dream is to work for Discovery Channel. She gets the permission to make a documentary on Samar and eventually falls in love with Samar. But Samar stills loves Meera and Akira is okay with this. The major twist comes when Samar once again reaches London to help Akira and meets an accident again. This accident takes his mind 10 years back to his first accident and he remembers only Meera now. Akira in order to bring his memory back finds Meera and tells him every thing and asks for her help to which she aggress.
Samar thinks he has been married to Meera and treats her as her wife, which is heart paining for Meera. One fine day Samar gets back his memory while seeing a chaos due to bomb in a metro. He then calls Meera to marry her again that she refuses. Again Samar returns India to continue his fight with GOD saying Meera 'you love your god more than me'.
Lastly, Meera comes back to Samar and once again a happy ending for a Yash Chopra film.
Talking about the performances, Shahrukh Khan as Samar is exceptionally well and is an absolute treat to watch. Katrina looks stunning as usual and Anuksha is charming through the entire movie.
The film has been shoot in the exotic locations of Kashmir and London and awesome to watch. Overall, Jab Tak Hai Jaan is a must watch film for the romantic film lovers.