Government releases additional Rs. 500 lakhs to fight Dengue: Dr. Walia
New Delhi, Wed, 14 Nov 2012
NI Wire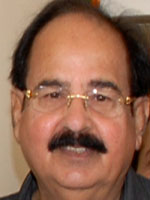 Health Minister Dr. A.K. Walia has directed that in order to exercise more effective control and better management of dengue in henceforth, 3400 Domestic Breeding Checkers (DBCs) engaged by the East, North and South Municipal Corporations will now continue to carry out domestic breeding checking throughout the year in place of the present practice of their engagement for the eight months i.e. from April to November. He has directed that an additional fund of Rs.500 lakhs be released to the three Municipal Corporations of Delhi so that they could continue the work for the whole year.
The Health Minister felt that there is a strong need for further training of DBCs, especially in view of checking breeding of "mother foci" of aedes mosquitoes comprising surface, overhead and underground water tanks. He directed National Center for Disease Control (NCDC) and National Institute of Malaria Research (NIMR) to jointly provide training to the DBCs from first week of December this year. The training module will be developed by NCDC, he said. The training will help DBCs to upgrade their skills and keep pace with new trends.
During the discussions with health officials, it emerged that there is an acute need to create public awareness with regard to mosquito breeding. It was reported that breeding was detected in all the strata of society – whether rich or poor, educated or uneducated, urban or rural, high-rise or low-rise dwellers.
Dr. Walia directed that in order to reach all sections of society, SMS messages through Mobile Phones will widely be communicated educating the public with regard to steps to be taken for prevention and control of dengue. He informed that sixty lakh SMS messages will be communicated from tomorrow onwards.
The Health Minister felt that the declining trend should not be the cause of complacency. We have to be alert throughout the year. That is the reason, the services of the DBCs are being engaged for round the year. He said that the period from December to March should be utilized for comprehensive checking of breeding as well as for developing strategies for the coming period for the prevention of dengue.