Kumas Vishwas fears his life threat, files police complaint
Lucknow , Mon, 12 Nov 2012
NI Wire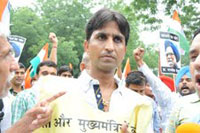 Kumar Vishwash, the close aide of Arvind Kejriwal and activist of India Against Corruption has filed a police complaints for threatening of his life from the unknown persons.
According to sources, Kumar Vishwas filed the complaint after a group of youngsters came to his house in Vasundhara, Ghaziabad, around 5.30 p.m. and told him that they wished to join the anti-graft movement.
They fled on seeing a television crew in the house, Vishwas said in a complaint lodged with the Indirapuram police station.
According to complaint, there was a commotion outside his house when he came out to find out what the issue was, a group of youngsters told him that they wished to join the movement.
At the time of the incident, former BJP legislator Roop Kumar Chowdhary and India Against Corruption IAC activist Sanjay Singh were present at Vishwas' house. "Sanjay Singh asked the youth to go to our Kaushambi office," the poet-activist said.
After the youths left, Vishwas joined a conversation with a television crew present in his house. However, a few minutes later his driver told him that the men were back, but this time their number had swelled.
"There were three cars - a Skoda, a Swift and a Honda city, two bearing Uttar Pradesh numbers and one of Delhi," the poet said, adding that the whole act appeared to be a "threat of sorts.
Indirapuram police station chief has said that he has received a complaint and will look into the matter.
(With inputs from IANS)