Assam CM asks Nagaland to solve border row through chat
Guwahati, Sat, 10 Nov 2012
NI Wire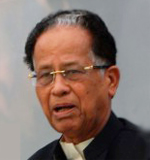 In order to peacefully solve the year-long Assam-Nagaland boundary row, Assam Chief minister Tarun Gogoi Friday asked his Nagaland counterpart to come and sit to solve mutually accepted solution.
Gogoi's statement came today after the meet of an eight-member team of the Assam-Nagaland Goodwill Team who came together to seek suggestions for the resolution of the boundary dispute amicably and peacefully, outside the jurisdiction of the apex court.
He said his government would extend all support to people of both states so that they could sit together and hammer out a formula to resolve the age-old dispute.
Gogoi, while lauding the attempt of the Goodwill Team, said he would be happy if the people of both states decided to resolve the border row amicably.
"I would be only too happy if the people of both sides sit together and arrive at a mutual understanding. Mutual resolution of any problem is the best solution. Our government will extend all support and cooperation to such initiatives," he said.
He pointed out that despite border problems, Assam had good relations with Nagaland, Meghalaya and Arunachal Pradesh.
"The matter should be resolved outside the court with both sides arriving at a mutually agreed solution through give and take. Towards this end, we have the blessings of Chief Minister Neiphiu Rio (of Nagaland) and various organisations," said a member of the Goodwill Team Tali Longkunar, while interacting with Chief Minister Gogoi.
The Goodwill Team members also pointed out that the border dispute should be resolved mutually and amicably in the greater interests of the region as a whole.
They handed over to Gogoi a copy of the agreement signed in 1993 by then chief ministers of Assam and Nagaland, Hiteswar Saikia and S.C. Jamir, respectively, in which they had mutually agreed on a number of decisions on the border row and requested him to give 'emphasis' to it.
The Goodwill Team said talks had also been initiated with organisations like Asom Sahitya Sabha (ASS) and All Assam Students Union (Aasu) for a peaceful and satisfactory resolution of the border dispute.
A member of the group expressed the hope that a resolution of the border dispute would go a long way in boosting economic development of the region.
--With IANS Inputs--