Sahara felicitates the Indian Heroes of London Olympics with gold
Lucknow, Thu, 01 Nov 2012
NI Wire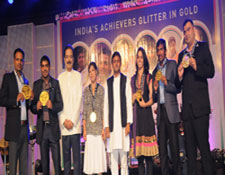 Lucknow Sahara India honored the Indian sportspersons who won medals in the recently held London Olympics, in a grand felicitation ceremony organised at Sahara Shaher, Lucknow. Prior to the commencement of the London Olympics, Sahara India Pariwar, in July this year, had announced to award medals of pure gold of 5 Kg, 3 Kg and 2 Kg to every Indian winning gold, silver and bronze medal respectively in the London Olympics 2012.In pursuance of the said announcement, a ceremony was organised to award medals to the Indian Olympic winners. The ceremony witnessed the awarding of a big 3 kg medal of pure gold to the sportsmen who won silver medal in London Olympics 2012, namely, Vijay Kumar (Shooting) and Sushil Kumar (Wrestling), whereas 2 Kg medals of pure gold were awarded to the Indian sportspersons Gagan Narang (Shooting), Saina Nehwal (Badminton), Mary Kom (Boxing) and Yogeshwar Dutt (Wrestling) for winning bronze medal in the London Olympics 2012.
The awards were presented to the sportspersons by Akhilesh Yadav, Hon'ble Chief Minister, Uttar Pradesh, amongst the presence of many dignitaries from across all walks of life.
A cultural programme was also held as a part of the ceremony, which included some memorable performances, by Sonu Niigaam and Shiamak Davar's troupe.
Speaking on the occasion, Chief Minister Akhilesh Singh Yadav, said, "I would like to congratulate the sportspersons who have brought laurels to our nation on an international level. I would, first of all, like to thank Saharasri for honoring these talented sportspersons by inviting them to Lucknow and adorning them with huge medals of Gold. I am feeling as happy as I used to feel while watching them on Television."
Speaking on the occasion, 'Saharasri' Subrata Roy Sahara, Managing Worker and Chairman, Sahara India Pariwar, said, "I would, first of all, like to welcome all the 6 great sons and daughters of our great nation, from the depth of my heart. All these talented children of our nation have made us immensely proud. I have known them since long. They started their career in sports on their own and the only ones who stood by them then, were their family members. I felt that something needs to be done in this regard. So, Sahara has come-up with a new planning so as to increase the medal count in the next Olympics. As per this plan, we will be setting up a sports centre of international level at Aamby Valley City where many budding sportspersons will be given world class training.
It is noted that Sahara India Pariwar is a major business conglomerate in India with operations in multiple sectors, including financial services, life insurance, mutual funds, housing finance, infrastructure andhousing, city development, print and television news media, entertainment channels, cinema production, consumer merchandise retail, healthcare, hospitality, manufacturing, sports, and information technology.