Luv Shuv Tey Chicken Khurana Pre Review, Story and Release Date
New Delhi, Thu, 01 Nov 2012
NI Wire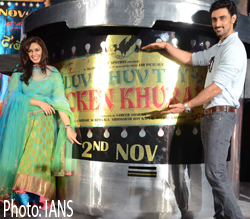 Directed by: Sameer Sharma
Produced by: Ronnie Screwvala, Anurag Kashyap, Siddharth Roy Kapur
Written by: Sameer Sharma, Sumit Batheja
Cast of Luv Shuv Tey Chicken Khurana: Kunal Kapoor (as Omi Khurana), Huma Qureshi (as Harman), Rajesh Sharma (as Titu Mama, Vipin Sharma as Kehar Singh, Vinod Nagpal as Daarji and Dolly Ahluwalia (as Bua Ji)
Release Date of Luv Shuv Tey Chicken Khurana: 2 November 2012
Luv Shuv Tey Chicken Khurana is a comedy flick from the makers of Khosla Ka Ghosla and Dev D.
Story:
Omi Khurana ran away home from home to London years ago. He is again on run from the gangster whose money he owes. Omi comes back to his home and lies that he is a well-settled lawyer in London.
Meanwhile at home, Omi's Grandfather Daarji has been in shock since the time he left. He has forgotten everything, even the recipe of Chicken Khurana, which is very famous.
Omi somehow meets Kehar Singh, a competitor who offers 1 crore in exchange of the secret recipe of chicken khurana.
Omi also meets Harman, a doctor with whom he falls in love.
Now the quest starts to find the secret and Omi is helped by Bua Ji, Harman and Titu Mama in this.
Will Omi find out Khurana Khandan ka purana secret and if he does will he deliver it to Kehar in exchange of money, to know go watch Luv Shuv Tey Chicken Khurana.
Pre Review:
Story of the film is little different but not strong. It is a light comedy film. Kunal has played his role and so has Rajesh and Dolly. Huma is looking beautiful and typical Punjabi Kudi.
If you are looking forward for a simple story, some comedy and a Punjabi flavor, the film is for you.
Luv Shuv Tey Chicken Khurana Trailer: