FDI to provide employment opportunity for youth: Oscar Fernandes
New Delhi, Mon, 22 Oct 2012
NI Wire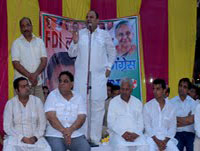 Congress leader and spokesperson CLP, Mukesh Sharma has started utilizing his entire worker force to garner support for the proposed 4th Nov Rally in support of the FDI. Sharma took a round of many parts of West Delhi to exhort the workers to take on their positions to contact common men to make them understand the benefits of FDI in retail in the country and Delhi.
On the occasion senior Congres leader Oscar Fernandes has stated that FDI is related to our future. It is going to change our life style, our economic situation apart from overcoming inflation and improvement in the value of Rupee in the International Market. The youth and the farmers are going to be the major beneficiaries as they would be able to avail large number of employment opportunities and expansion of their entrepreneurs.
Sharma also stated tat the proposed FDi will not harm any small business man. Their business will also flourish. The FDi is a symbol of an advancement and modernisation. It is only being opposed by those parties which are either working as per the tips of the captalists or their outlook is backward. They are backward, hence they are anti national anad anti poor.
Sharma stated that the Chief Minister has called a meeting to discuss the strategy to make the proposed 4th Nov rally a grand success. The party president Sonia Gandi and the PM Dr Manmohan Singh would address the rally on the FDI.