Mohanty'??s hide & seek game ends with surrender
Jaipur, Thu, 10 Jan 2008
NI Wire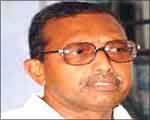 Suspended Orissa DGP BB Mohanty, who was declared absconder, finally surrendered himself after a year-long hide & seek tussle with the Rajasthan police in a local court here on Thursday.

He was absconding after being alleged to help his rapist son Biti Mohanty to jump parole. Just a week back, he had expressed his desire to surrender to Rajasthan police.
It's been a year, since the former Director General of police (Home guard and Fire service) son jumped parole, and was hiding against his arrest.
The Rajasthan police had accused him of helping his son Bitti Hotra Mohanty to evade punishment for raping a German research student in Alwar in March 2006.
Bitti was awarded a seven-year rigorous imprisonment by Alwar court and serving the jail term but later he was allowed a 15-day parole to meet his ailing mother in the month of November 2006 but he didn't surrender at the end of the period.
Rajasthan police accused BB Mohanty for helping his son to jump parole and hence sent a team to Orissa twice for his arrest but couldn't able to nab him due to the non-cooperation of Orissa police, as was earlier stated by Rajasthan police.
BB Mohanty had approached the Supreme Court against the non-bailable warrant issued by court; however the court rejected that. Since then he was brought under severe criticism from the Orissa government and subsequently faced suspension from his post.
The court had also issued standing warrant against Biti Mohanty but till now police has no clue about his whereabouts.
While talking to mediapersons in Jaipur before his surrender at the city court, Mohanty said that he had no clue where Biti is and he had no contact with his son from since his escape.
Declared as absconder BB Mohanty is charged under the Section 120B and 130 of the Indian Penal Code (IPC) for conspiring to help a criminal escaping from custody and also charged under IPC 216 for harbouring an offender who has escaped from custody.
LATEST IMAGES

MORE...
Social bookmark this page
Post comments: