Poor show, bad umpiring and fourth innings blues
New Delhi, Sun, 06 Jan 2008
M Shamsur Rabb Khan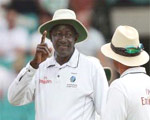 Jan 06: Seven wrong decisions – all against India plus some poor batting performance in the second innings let Team India down in the Sydney Test Match that turned out to be rather interesting for the Aussies towards the end.
Set a target of 333 runs or face over 70 overs in the day, India found themselves in the doldrums very early. They lost Wasim Jaffer (0), VVS Laxman (20) and Sachin Tendulkar (12). Earlier, Australia declared their second innings at 401 for 7. Michael Hussey made an unbeaten 145 to build the Aussie score.
Jaffer was totally off colour: rather than jabbing the ball so hard he might have gone for a flourishing drive knowing well that three slips are waiting. He completely misread an out swinger from Brett Lee that pitched on the good length. His contribution in all the four innings that he played so far does not touch 25 runs!
Sachin was a bit unlucky as allowed the ball to go pass, but it hits his bat on the way. He was surprised. So are we. Well, skipper Ponting devised a plan to get rid of the master blaster, and was succeeded. Since Sachin was standing outside the crease, it was difficult for Staurt Clarke to pitch the ball on the right areas. Then, Gilchrist was called to be stationed closed to the stumps. Sachin came back to crease. The ploy worked. Stuart Clark, who couldn't do much in the first essay, then, removed first-innings centurion VVS Laxman, who was caught plumb in front of the stumps.
Dravid was clearly not out as the ball brushed past his pad before landing into the safe hands of Gilchrist, who astonishingly jumped up to give the impression that it was a genuine edge. Andrew Symonds responded gleefully. Poor Buckner was trapped again. Certainly, there was a noise, but the ball did not touch his bat, which was drawn back behind his pads. He walked back in anger and frustration. And rightly so because he is going through a bad patch, since he tried to build his innings with patience and determination. Umpire Buckner has a very poor show in this match.
Like his style, Ganguly tried to ease the pressure by playing some flourishing drives and cuts. Ganguly and Dravid tried to resurrect the Indian innings after they had been reduced to 54 for 3. The two put on 61 runs for the fourth wicket before Dravid was dismissed. Ganguly played his shots with gay abandon while Dravid held one end up.
Yuvraj seems more interested in Deepika Padukone than his game these days, who was spotted in camera waving and smiling from the spectator gallery. She, like us, must have been disappointed the way Yuvi got out without making any run. He edged a sharp flipper from Symonds to the keeper Gilchrist to walk back to the pavilion. The lanky left hander neither went forward nor backward. While playing spin on a standing in the crease on the last day when the pitch gets rough is always a bad strategy. Who would tell him these basics?
Skipper Kumble and Dhoni put up a brave fight back and when it seemed India could manage a draw, Harbhajan Singh got an unplayable delivery from Michael Clarke followed by a dubious lbw decision against RP Singh. The ball was clearly above the height and the benefit of doubt should have been given to the batsman. Now Clarke on a hat trick, but Ishant Sharma survived only to be caught next ball and it was all over.
It has been the usual Indian fourth-innings struggle. They simply could not handle the pressure as the Australians bowled to a tight line and frustrated the Indians. Poor umpiring added insult to the injury. What seemed a certain draw resulted in a painful defeat.