India loses in Hopman Cup opener
New Delhi, Sat, 29 Dec 2007
NI Wire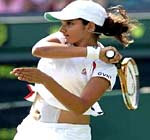 Dec 29: Indian tennis sensation Sania Mirza expressed happiness over her performance
Indian tennis team featuring Sania Mirza and Rohan Bopanna easily succumbed to their second-seeded opponents United States 1-2, after Mirza and Bopanna lost their singles matches, in the 20th edition the Hopman Cup opener at the Burswood Dome in Perth on Saturday.
In the women's singles, India tennis sensation Sania showed some resistance against substitute Meghann Shaughnessy, who gave a perfect start to US team after playing in place of Serena Williams, before going down 3-6, 6-4, 3-6 to her opponent in a keenly contested tussle that went for more than two hours, giving the US team 1-0 lead in the Group B encounter.
World number 52 Shaughnessy won her first four games against an inconsistent Mirza and was looking right on track for a quick win when she led the second set 2-0.
However, gritty Mirza bounced back to level the terms and from thereon took control of the match. Mirza was leading 3-1 in the decider but faltered when it mattered, as she lost the consecutive last five games to give Shaughnessy the triumph.
Williams is due to arrive in Perth in time for her nation's second group match in the eight-nation mixed-team tournament against the Czech Republic on Monday.
In the men's singles Rohan Bopanna showed no signs of fight as he hardly troubled Mardy Fish. Bopanna went down 2-6, 4-6 in mere 72 minutes to provide his opponents an impregnable 2-0 lead.
The only consolation came from India as they overpowered US pair in the mixed doubles event. Playing for pride in the inconsequential mixed doubles tie, the seventh-seeded Indian pair got along well to score a facile 6-4, 6-4 win over their opponents.
India next play hosts Australia on Tuesday, as the sixth-seeded team represented by
Alicia Molik and Peter Luczak.
The Czech Republic team of Tomas Berdych and Lucie Safarova begin their campaign against hosts Australia later today, represented by Peter Luczak and Alicia Molik.
Top seeds Serbia, represented by Novak Djokovic and Jelena Jankovic, begin their campaign in Group B on Sunday against Taiwan, while France and Argentina complete the Group B line-up, with the winners of each group going through to the final.
SANIA CONFIDENT
Meanwhile tennis sensation Sania Mirza expressed happiness over her performance and exuded confidence despite the 2-1 loss, Mirza was happy with how she played.
"It was my first match since October, so it's tough to come out and face such a tough team. Meghann has been a top 20 player and is a great player, so it's a great but tough match to get into," Mirza quoted in Hopman Cup website.
"It was two and a half hours for the first match, so it was quite a way to start the season. I'm happy with the way I played, even though it was a little up and down. We still have our mixed doubles record going, though, so that was good," opined Mirza.
Ranked 31 in the world Mirza, lost the plot after leading 3-1, was all set to win the third set and match against Shaughnessy, but she crashed in the next five games after suffering from cramp.
"I was cramping at the end of the second set and it got worse in the third," she said.
"It started in my hamstring and by the end it was in my toes. It was very hard, but Meghann was too good for me."
Mirza is hoping that if she stays healthy, that will be a lot closer to the top 10 by 2009.
"I feel good and my main goal is to stay healthy for all of 2008. Last year I missed a few months, so this upcoming year I'd like to play the whole season," Mirza shared her views with the official website.
"Even though I was out injured and had surgery I started playing well in the summer in America, got a lot out of confidence from beating top players and it was one of my best years.
"If I had a choice, I'd go up another 30, but I haven't set myself a number. The plan is to keep moving up and it's important that I stay healthy," she added.
RESULTS
Meghann Shaughnessy bt Sania Mirza 6-3, 4-6, 6-3
Time: 132 minutes, Umpire: Alison Lang
Mardy Fish bt Rohan Bopanna 6-2, 6-4
Time: 72 minutes, Umpire: Adel Aref
Shaughnessy/Fish lost to Mirza/Bopanna 4-6, 4-6
Time: 71 minutes, Umpire: Kerrilyn Cramer
LATEST IMAGES

MORE...
Social bookmark this page
Post comments: