Maruti announces Bonanza offers for customers
Mumbai, Wed, 19 Dec 2007
NI Wire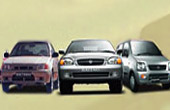 Dec 19: The uncrowned leader in the car market in India, Maruti Suzuki India Ltd (MSIL) has announced a special saving scheme, 'Happy Customer Offer' to beat the sluggish market till the end of the year. Maruti has offered to provide a wide range of discount from Rs. 18,500 to Rs. 57,500 on its several models.
The discount will be available by the end of this year only, announced Maruti today.
Though Maruti has already announced to hike the price of every model up to Rs.2000 depending upon the models in the New Year but this bonanza offers may be proved as a hotcake in this chilly season.
This offer may begin a price war in the car market as other major car manufacturing companies can also reduced the price on either selected models or all the models.
The discount would also be available on finance payouts and exchange offers, confirmed Maruti. The least discount is available on its cheapest model Maruti Omni van of Rs. 18,500 while the Maruti Sedan Esteem, the mid-size car of Maruti Suzuki would be available with highest discount of Rs. 57,500.
Maruti 800, the flagship hatchback model of Maruti can be purchased now in a reduced price of Rs.26,000 while it's top selling model ALTO is now available in less price of Rs. 24,500.
Maruti has not announced any discount in its premium cars Swift and Sedan SX4 so far.
Here is the discount price list:
Model Name

Discount (Rs)

Omni
Maruti 800
Alto
Wagon R (Patrol)
Wagon R (LPG)
Zen Estilo
Sedan Esteem

18,500
26,000
24,500
45,000
24,500
48,000
57,500