Towards a more constructive Indo-Nepal ties
New Delhi, Thu, 18 Sep 2008
NI Wire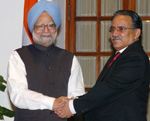 The Indo-Nepal ties which go back a long way is quite evident from the present Nepal Prime Minister Pushpa Kamal Dahal better known as Prachanda's visit to India. The leaders of both the countries have discussed several bilateral issues including the 1950 Peace and Friendship Treaty (PFT) and the 1954 Kosi river treaty. As it's a new beginning for a New Nepal after the transition from monarchy to democracy along with the once revolutionary-Maoists-now in Power, India too has extended its hand for the development of its neighbour.
The rise of Maoists government in Nepal though was a worrying factor for India as the country is itself facing similar internal crisis, but Prachanda has made his apparent objectives to take the age-old relations to a new height beyond the traditional aspects by addressing mutual economic cooperation and security issues at large. Prachanda promised that its soil wouldn't be used for any anti-national actions against any country.
India, too understanding the robust changes in Nepal's political dynamism, has given its consent to revive both the treaties. In fact, Indian Prime Minister Manmohan Singh was quick to pass on his good wishes along with an invitation to Prachanda soon after Nepal Maoists came to the job. Though Prachanda's visit to Beijing put down some apprehensions for India concerning Nepal's tilt towards China, but the present talk between the heads of both the countries has been quite pleasing to drive the close-knit relation forward.
Geographically too, India is the key neighbour of Nepal bordering from three sides which favours more trade activities between the two. Prachanda, well aware of the situation, has urged for direct Indian investment especially in IT industry and infrastructure development. Considering its increasing energy needs, India can provide investments in hydropower projects. Kathmandu, too, articulated it in the right direction by promising security to Indian investors in Nepal.
Furthermore, though no timeline has been set for the revision of the 1950 Treaty, any positive move in this direction would further strengthen the relation as it is believed that the treaty is more in India's favour and hence should be renewed taking Nepal's interest. Kosi river agreement as another focus point needed restructuring to tame the impact of the river. This year, Bihar has been mostly flustered with the flood and also parts of the Himalayan nation.
Lastly, India needs to understand the radical reform agendas of the Maoists; moreover, Nepali leaders need to set up a clear cut foreign policy in order to erase any kind of apprehension from India's side. However, the whole talks whether trade, security, flood protection and reconstruction are enough to keep these two traditional buddies close and intimate. This definitely gives a clear insight of the future Indo-Nepal bilateral relations, a more stable and constructive one.