Four-nation womenâ??s Shastri hockey tournament commences today
New Delhi, Sat, 01 Dec 2007
Mukesh Thapliyal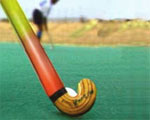 Dec 01: Top-rankedIndia starts as favourites while gearing up for the next year's Olympic qualifiers
Playing on their home turf top-ranked India Eve's team starts as favourite, to get some much-needed match practice before beginning next year's Olympic qualifier crusade, in the inaugural Lal Bahadur Shastri four-nation women's hockey tournament that commences here later in the day.
Ranked 13th in the world, India will have to fight it out with the reasonably low-ranked teams. The other teams include Azerbaijan, 15th spot, which is two places below to India, while Italy and Malaysia are ranked 19th and 24th respectively.
The five-day tournament will be played on round-robin basis leading up to the finals that will be held on December 5 between top two placed teams. India will take on Malaysia in their opening encounter, which they drubbed with half-a-dozen goal margin in their last meeting.
Bollywood King Sharukh Khan must have famed women's hockey within the common masses through 'Chak De' but in this tournament the opening-day attraction would be another Bollywood hunk Salman Khan.
On the contrary, IWHF Secretary Amrit Bose has it's own opinion on 'Chak De' as she said women's hockey has to 'Chak De' themselves in terms of performance. "What we have to show are results and we are showing results," Bose said at a press meet on Friday.
Indian captain Mamta Kharab exuded confidence on her team and said that the tournament would provide a much-needed match practice to her team ahead of Olympic qualifiers.
"We are fully prepared for the event. All the teams are good. We have played against Italy. Malaysia is now a much-improved side than before," Mamta said.
India has a good chance of qualifying for the 2008 Beijing Olympics and this tournament will provide them a good platform to practice. "This is part of the preparations for the Olympic qualifiers. It will give us a good opportunity for practice," Mamta added.
Talking to NewsTrackIndia correspondent, Malaysian coach Yahya also considered it as a good opportunity for all the teams prior to Olympic qualifiers. "It will specially give us a good chance to judge Italy's team as we both are in the same qualifying pool," Yahya said.
"I also want to know how much my team improved after losing 0-6 to India in their previous meeting," Yahya added.
The Indian team is going in this tournament with a relatively younger side, as several of its senior players including penalty corner specialist Jasjeet Kaur is on the injured list.
When asked skipper Mamta about the team composition, she said, "It's not that the young players are not good players but it is the experience which they lack."
"It could not have been a better time to experiment with these younger lot in this tournament," she added.
According to the chairman of Lal Bahadur Shastri Society, Kamal Chaudhary, "We are still fighting for the final arrangements to make the tournament a big success. We still hope that something could be done even at the last minute."
IWHF Secretary Bose also expressed her concern that the tournament would not lose its sheen under the cover ongoing Indo-Pak Test cricket and the Indian Cricket League.
Bose also told reporters that one more international tournament, scheduled to be held in Punjab, is in the pipeline and would be organised early next year.
The IOS management company after successfully organising Durand Cup-07 is looking after the arrangements of this inaugural four-nation tournament.
" We are delighted to be part of this prestigious four-nation tournament and it is high time that women's hockey must catch up the momentum and I am sure that all the hockey lovers would watch a good hockey action in the coming five days," feels Neerav Tomar, Director, IOS Sports & Leisure.
LATEST IMAGES

MORE...
Social bookmark this page
Post comments: