Punjab under violence; religious clashes reported from most areas
Chandigarh, Tue, 15 May 2007
NI Wire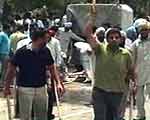 May 15: The leaders of Sikh organizations and popular sect Dera Sacha Sauda have started consultation process, there followers are hell bent to take "revenge� are continuously engaged in violence on the second day also. The violence even reached to the winter capital of Jammu and Kashmir-Jammu.

Taking hint from Monday's protests violence broke out at tens of places in Punjab and members of Dera Sacha Sauda were seen pitched against police. Police had to resort to lathi-charge and through tear gas shells to disperse.

More than a dozen people were injured in Bhatinda, while tension prevailed at many other parts of the state where Akali Dal supporters burnt effigies of the Dera Sacha Sauda chief, Baba Gurmeet Singh Ram Raheem.

Akali Dal supporters staged violent protests against a baptising ceremony conducted by the Dera Sacha Sauda in which 'amrit' was served to devotees in a manner the tenth Sikh Guru Gobind Singh would perform. Some of the newspaper advertisements also depicted the Dera chief in the robes of the tenth Sikh guru. Sikhs throughout Punjab and adjoining Jammu region got infuriated with this act and started protests against the Dera chief.

People here in Chandigrah don't consider it just a religious issue but even this has somethi9ng to do withy the recent assembly elections in Punjab, where Congress lost to Akali dal led coalition. Dera, headquarters in Sirsa nearby Haryana, played a critical role in the last elections in Punjab. The Dera followers were directed to vote for and support the Congress. This had apparently upset the Akali Dal led by chief minister Parkash Singh Badal, which lost more than a dozen seats due to it. Then Dera was mired in controversy following a CBI inquiry against its chief for his alleged involvement in a journalist's murder. A group of Congress MLAs had appealed to the Centre to take a lenient view of the charges framed against the Dera chief.

Meanwhile, here today, taking strong note of situation and the act which led the state into chaos, Akali Dal refrained from issuing any dictate. "We will take decision on May 17,� Akali Dal leaders revealed.

While as Dera followers and leaders are yet to come out with any proposal and they still house strong resentment because of effigy burning. "This is an attack on our religious sentiments and we want revenge,� protesters were heard demanding.

Being chief minister and also one of the Akali leaders, Prakash Singh Badal, cleared that the state government would preserve peace and communal harmony at all costs.

"Government will deal firmly with anyone trying to take law into their hands,� he said.

As dust seem to be settling in the violence hit areas, the situation is still tense and both sides are showing animosity within their strong holds.