Yeddyurappa resigned, BJP furious over treachery by JD(S)
New Delhi, Tue, 20 Nov 2007
NI Wire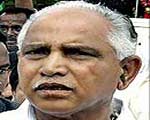 Nov 20: The eight-day Karnataka Government fell short of its supporter and instead of bowing to the Janta Dal (Secular) illegitimate demands the BJP-led government opted to go to the people's court for a fresh mandate.
Meanwhile, the Union Cabinet after analysing the political scenario under the recommendation of Governor Rameshwar Thakur approved President's rule. As a result the assembly dissolved hardly a week of its formation and CM Yeddyurappa resigned in the midway before the trust voting took place.
The situation arrived after JD(S) party member decided to vote against Yeddyurappa during the floor test. Party leader H.D. Kumaraswamy directed MLAs to vote against the confidence motion as both parties could not reach to a decision after BJP denied the two wealthy portfolios of Urban Development and Mining, with other demands; Deve Gowda wanted BJP to make an agreement over a stamp paper.
Yeddyurappa after submitting his resignation to Governor said, "As soon as I came to know about the whip, I decided to meet the Governor. I am not the kind who pines for the chair."
Accusing JD(S) of playing foul, Yeddyurappa urged the Congress to opt for fresh election in the interest of democracy.
The BJP party President Rajnath Singh said, "Its treachery and we will not surrender at any cost. We are prepared to face fresh elections."
But it would have been a Catch-22 situation if BJP would have won the trust vote.
Now, the party is ready to cash in on this situation which will yield success for the party in Karnataka.
"I am sure the people will understand who has betrayed whom," said BJP spokesman Ravi Shankar Prasad.
However, senior leaders of BJP were against the remarriage with JD(S) when Kumaraswamy announced unconditional support for BJP.
They become sceptical after JD(S) failed to hand over power to BJP as it was promised earlier on October 3.
The decision was taken on Tuesday morning after the Cabinet could not reach a decision on Monday night.