India International Trade Fair starts in Delhi
New Delhi, Wed, 14 Nov 2007
Deepak Kumar Mohanty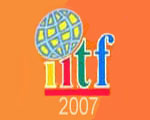 Nov 14: The India International Trade Fair, one of the biggest trade shows is commencing today in the capital in its 27 th year. The premier event will be held for the next couple of weeks at PragatiMaidan, the largest exhibition ground of India.
Under the management of Indian Government's promotion agency, the India Trade Promotion Organisation (ITPO) has set 'Processed Food and Agro-Industry' as the theme of this 14-day long extravaganza.
ITPO organises various trade shows in India and abroad to promote trade activities and this is also a huge platform for the progress of trade, investment and changing technological trends. Product promotions, market survey, information dissemination with the pace of industrial growth are prime aims of the fair.
Opening
President Pratibha Patil will inaugurate the festival and Commerce and Industry Minister Kamal Nath will address the function. Representatives from various countries including
Afghanistan , Pakistan, Nepal, Bhutan, China, Thailand, Korea, Nigeria, Belarus and some others will take part in the discussion at the inauguration ceremony.
Apart from participants from all Indian states and union territories, exhibitors from as many as 23 countries will showcase their products concerning various sectors to attract trading community across the world.
Public Entry
After the first two days which are reserved for businessmen, technocrats, entrepreneurs and service providers, the fair will be opened to public from Nov 16 on wards. On Nov 14 and 15, participants from business community will discuss on various issues and conduct survey on world trade by understanding their products and services.
Earlier only the afternoon session was allowed for public and morning session was reserved for business visitors but this time expecting a large crowd the authority has made changes in schedule.
States and Union Territories
This time too various States and Union Territories of India will present their dynamic culture through their traditional handicrafts products manufactured by rural artisans and craftsmen. Like earlier one can find an array of products that give a better understanding of different cultural regions of the country.
To reach a larger India and International masses, states do have their technological innovation and services in display, which give a fare idea of the amount of progress in adoption and innovation of new technologies in industrial growth.
State Pavilions along with their traditional and cultural symbols will try to put on show the kind of technological and industrial progress they are heading to be a focus for investment; this way presenting India as a worthy global trade destination and a market place with huge potential.
2007 Theme: Processed Food & Agro Industries
With the theme "Food and Agro Industries", this year the fair will focus on the aspects of the production and promotion of processed food and an overall enhancement of agro industries. The Ministry of Food Processing industries will also find out some innovative ways of investment in the particular sector as India is one of the largest food producing countries.
As per the report India accounts a food production worth of $34,827 million but only a small portion of its entire farm produce is processed into value-added products. The ministry came with idea to give a big platform to encourage progress of the sector.
The Capital Delhi
As Delhi is the political circle of the country it is obvious for the state to witness all kinds of progress happenings in the approaching double digit growth of India. Hence, showcasing all the developmental works the pavilion of Delhi named 'Delhi@10' will be one of the spots to visit. [Delhi@10 named to celebrate 60 years of India's Independence and 10 years of Delhi's development.]
Delhi pavilion keeping its substance in Indian history will keep you recount the magnitude of ancient and medieval and modern India at one place.
As Delhi is going to host the 2010 Commonwealth Games, the city is also proud to cap the mascot 'Shera' on top of the pavilion.