Yeddyurappa to form government in Karnataka
New Delhi, Sat, 10 Nov 2007
NI Wire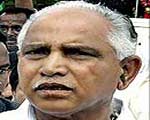 Nov 10: Finally the cloud looming over Karnataka's reign has cleared, though late but came as a Diwali bonanza for the Bhartiya Janta Party (BJP) headed by B.S Yeddyurappa.
This came when the Union Cabinet decided to revoke Presidential rule in Karnataka and directed the Governor to invite BJP leader B S Yeddyurappa to form a government.
It is believed that the cabinet decided to revoke the same after going through the final report of Governor Rameshwar Thakur that indicated that the BJP-JD(S) combine enjoys majority in the house but had doubt about the government's durability.
The legislators from BJP and JD(S) headed by M. Venkaiah Naidu, former BJP president and BJP National General Secretary, Ananth Kumar and former Chief Minister H.D Kumaraswamy of JD(S) met President Pratibha Patil on Tuesday to assert their claim to form the government.
Yeddyurappa has claimed to form the government in Karnataka with the assured support of 49 JD(S) legislators.
The shift of power has left BJP aiming to reflect the same in other southern states, this is for the first time BJP will come to power in any southern states.
Reacting to this news the elated BJP party President Rajnath Singh said, "Our forming a government will have impact in other southern states".
Earlier, in 2006 after the 20 month old Congress JD(S) coalition broke after H.D Kumaraswamy breakaway group joined BJP, in an understanding reached by both the BJP and JD(S) to rotate the power for 20 months each and Kumaraswamy became Chief Minister.
The problem erupted when JD(S) refused to transfer power to BJP as per as it was signed, in retaliation BJP withdrew its support and on October 9 President's Rule was imposed.
The situation took another turn when Kumaraswamy offered to support BJP to form government.
On November 6 the legislators from both the party paraded before the President and based on final reports of Karnataka's governor the Centre decided to revoke the President's Rule.