Saawariya vs Om Shanti Om; who will win the Mega Diwali Bumper?
New Delhi, Wed, 07 Nov 2007
Binita Tiwari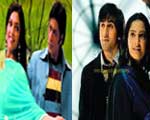 Nov 07: There is a tug of war between the two most glamorised movie of the year Saawariya and Om Shanti Om (OSO), reason being simple as the director of Saawariya, Sanjay Leela Bhansali is known for choosing film based on rich literature articulated with the rhythm and nuances of relationships, whereas Farha Khan, director of Om Shanti Om is known for adding all the glamour to life in her film.
Farha, who has choreographed tens of movies, is just one film old as a director where as Sanjay has directed several films with much acclaimed Devdas, Black and Hum Dil De Chuke Sanam.
The storyline of OSO is based on reincarnation inspired by a Hollywood flick 'Chances' are while Sanjay has chosen 'White Nights' a short story written by Fyodor Dostoevsky.
Deepika Padukone is making rave everywhere so is Shahrukh's six pack abs while Ranbir the cool dude and Sonam a tall lass, are the cutest actors making debut with this film.
OSO makes its distinction for its music and the strings of star cast; the costume has a touch of olden years while Saawariya with master strokes has topped the chart in its soothing music and a blend of subtle yet rich costume.
Both the directors have one thing in common, that is the graceful manner, in which they rebuked the theory that they are competing with each other.
One is excited and the other is eager, one is secure for the film has its USP Shahrukh other feels safe for his experiment; were a success earlier.
This Diwali will be a silent war of fireworks …that will sure gonna make noise at the box office.