One of fourth global workforce can be Indian: PM
New Delhi, Wed, 27 Aug 2008
NI Wire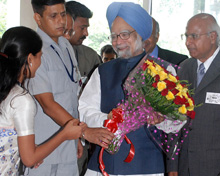 "India has the potential to create over 500 million trained people by the year 2020, according to observers," said Indian Prime Minister Manmohan singh on Tuesday at TCS Learning Centre in Guwahati by adding, "That would be over a fourth of the global workforce, so I have been told."
He was addressing the faculty of Indian Institute of Technology (IIT)-Guwahati and Tata Consultancy Service (TCS)- India's largest software firm and students of TCS.
Dr. Manmohan Singh, who was on the two-day official visit of Assam, said that India can be a knowledge power if create an education revolution, as he said, "This big and unique opportunity for India will come from an education revolution that we must undertake as our most important national endeavour" and "Our government is doing its very best. We are fully committed to fulfilling all our ambitious plans and targets for educational development in the country," added Dr. Singh.
The 11th five-year plan is basically knowledge investment plan, as per PM cited stressing on motivating this sector with the collaboration of private firms and Non-government organisation.
"Our government's effort has been to create the next big wave of investment in higher education and the 11th Five Year Plan…..We have significantly increased allocations to the education sector with a five-fold increase to an unprecedented Rs. 2,75,000 crore.", said Manmohan adding, "But, this will not be enough if we are to tackle the enormity of the problem and the opportunities that lie before us."
"We need to work in close partnership with the corporate sector, non-governmental entities and community organisations. We need to facilitate creative partnerships between the public and private sectors in the field of education including higher education. Many eminent educational institutions all over the world are now partnering with industry to set up collaborative knowledge partnerships in their campuses." he said.
Commenting over the elementary education, Prime Minister said, "We are trying to universalize quality elementary education through the Sarva Shiksha Abhiyan. We are beginning a major expansion of secondary schooling", while on higher education sector he commented, "In higher education we are building eight new IITs (Some of these IITs, nearly six of these have already started functioning), seven new IIMs, sixteen new central universities, fourteen world class universities and five new Indian Institutes of Science Education and Research of which few are already functioning."
Dr Manmohan Singh believes that higher education sector cannot be boost without collaboration and co-operation with private firms to form a 'knowledge network' that work together to boost each other as he said, "Collaboration and co-creation are becoming the hallmark of higher education today in an increasingly democratizing and globalised world. We are putting in place an Integrated National Knowledge Network that would have nodes to all major institutions of higher education and learning. This network would help our institutions of higher learning to connect with each other and carry on the relevant interdisciplinary dialogue."
Addressing IIT as the laboratories of the software revolution in our country, he said, "The IITs have served our country with great distinction. It represents in our country the highest traditions of academic excellence not only in India but also all over the world. But I sincerely believe that the best is yet to come."
Appreciating the students of North East Dr. Singh said, "The English language skills of the youth from the North-East are well known. They are very visible in the service industry in different parts of our country. Now our effort must be to train and educate an increasing number of the youth of the region so that they can develop higher order skill sets." "I am confident that the professionals who are trained here would contribute to the development of the Information Technology industry not only in Assam but in the entire North East." he added.
LATEST IMAGES

MORE...
Social bookmark this page
Post comments: