Tribute paid to the martyrs of 1857 revolt
Delhi, Thu, 10 May 2007
NI Wire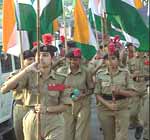 May 10: On the occasion of 150th anniversary of 1857 revolt President Abdul Kalam, Vice president Bharon Singh Shekhawat and Prime Minister Manmohan Singh called on to remember the sacrifices made by the brave sons and daughters 150 years before to free their country from the foreign occupation.

The event commenced with a national song after the arrival of President Abdul Kalam.The Speaker Somnath Chatterjee addressed the gathering. In his speech he said that the 1857 revolt marked the beginning of an organised resistance to colonialism. He further said that the freedom struggle showed unity and a common message which inspired the coming generations to fight for the liberation of the country.

After the Speaker, the dais was occupied by Dr. Manmohan Singh. He said that the revolt was an important step as it took a 'national turn'. The revolt also demonstrated the Hindu-Muslim unity. He said that there was no record of even a single instance of communal conflict and historical research confirms this fact.

The PM also appealed the youth that it is their responsibility to build a nation free from poverty, disease, a nation marked by harmony, social justice irrespective of religion, class caste and community.

President Abdul Kalam addressed the assembly in Hindi and chanted his verse "Happiness lies in giving.� Throwing light on the struggle, the president said that there were warning signals to colonial rule in the form of revolts but they did not take the indications. The revolt was an assimilation of small streams which became a powerful flood. The president also recalled the vision of Aurobindo Ghosh to create a free India.

Kalam also emphasized to adopt a three dimensional approach to meet energy requirements. On national leadership he said that it has to radiate the confidence in people. The president further said that the country needs visionary leaders like the ones in past. Concluding his speech he said that aiming small is a crime.

Gazal Maestro Jagjit Singh, Subha Mudgal and famous poet, Gulzar, were also present and participated in the event.