Supreme Court may refer the quota issue to a larger Constitution Bench
Delhi, Wed, 09 May 2007
NI Wire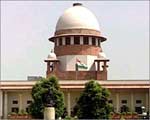 May 9: The Supreme Court would hear government's plea of 27 per cent quota in higher educational institutions today, after reconsidering all issue from both the parties.

Earlier, on Tuesday, the SC asked solicitor general and both the parities to submit all possible pros and cons by Wednesday and the court will then decide on the issue.

Though the court had earlier refused to vacate the stay on the OBC quota and the stand by the court for agreeing to hear all related questions certainly provided some relief to the government.

The bench of Justices, comprising of Justice Arijit Pasayat and Lokeshwar Singh Panta, seek the fundamental questions involved, which needs to be answered by the court. This is the same bench which had earlier rejected center's plea for modification of its earlier order. But yesterday while directing some senior advocates of both sides: the petitioner and the respondent, the SC asks for all important questions of law.

While presenting government's stand in the court, senior advocates like Ram Jethmalani, K.Parasaran and solicitor general G.E.Vahanvati pleaded for referring the case to a larger constitutional bench. They also cited that the issue is of national interest as it involves a larger section in the society.

However, the anti reservation petitioner, advocated by Harish Salve, pointed out many loopholes. He also referred to an earlier case of Mandal Commission and the 9-judge Constitution Bench, which had already addressed the issues raised by the government. The said person stressed on that there is no need for a further constitutional bench. "But it is up to the court to decide whether to consider this 'self defeating' affidavit or not�, he added.

The solicitor general, Vahanvati, later pointed several issues like the validity of 93rd Constitutional amendment, the data available for determining the OBC population, the question of creamy layer and the demand to increase number of seats for general category are of much importance in forwarding the issue to a larger bench.

However on Vahanvati's stand, Salve said, "If the government doesn't want to accept the verdict of the 9-judge bench, then let's have an 11-judge Constitution bench.�

It seems that the apex court may refer to the matter to a larger constitutional bench following todays' hearing with a more than 9-judge bench constitution.