Apple iPhone unveiled in India
New Delhi, Fri, 22 Aug 2008
Noor En Ahmed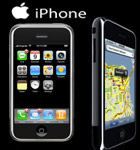 Apple's iconic 3G-enabled iPhone, the super gadget for which the whole India was breathlessly awaiting, has finally been unveiled in six cities simultaneously on Wednesday night with ardent.
Leading GSM firms Bharti Airtel, and Indian unit of UK based Vodafone Essar have launched it with their connections in the six major markets of India: New Delhi, Kolkata, Bangalore, Pune, Jaipur and Chennai on August 21 at midnight.
This third generation of Apple's iPhone has been released in 8GB and 16GB memory model with a price tag of Rs. 31,000 and Rs. 36,000 respectively.
According to market gurus, the prices of these 3G iPhones are high in the country viewing its great demand and public expectations, while in US it has been cool down and selling at mere price of USD199 (8GB) and USD 299 (16GB) currently. Even, in Indian gray market especially in Mumbai, "unlocked" iPhone is available in the range of Rs. 18,000 to Rs. 24,000 as per its configuration.
However, despite of these, the zeal among the public has not been reduced and yesterday's function showed the level of enthusiasm of the public on the inaugurating occasion.
In Delhi, Bharti Airtel has launched it at its Connaught Place outlet while Vodafone Essar has introduced it at Sahara Mall Gurgaon, the Near Capital Region (NCR).
This launch of Apple's iPhone came just two days later the introduction of Nokia's N96, which Nokia has launched to compete Apple's iPhone.
To penetrate into the world's second largest market, Apple has tied up to three leading private banks: ICICI, Axis and Barclays that would allow the users to buy expensive iPhone in Equally Monthly Installments (EMIs). The users who are holding the credit cards of these banks can buy it by paying less interest rate as against their regular charges, according to signed deal. The EMI would be of 6 months and 12 months.
On the launching occasion, Sanjay Kapoor, President of Mobile Services at Bharti Airtel announced that Airtel is offering bolt-on-data plan, 500MB free a month for next 12 months, M-Check and Airtel Live experience for every iPhone users.
While Vodafone has not announced any plan except to sell it at easy installments after paying a portion of amount in lump-sum.
The 3.5-inch of Apple's iPhone multi-touch screen is equipped with virtual keyboard and buttons that runs on Macintosh operating system and AT&T lab has developed its software. It is a combination of iPod, wireless Internet and mobile phone. Its camera gives crystal clear picture while its digital sound is incredible. It looks sleek and compact and enabled with quad-band cellphone that works on GSM standard.
Moreover, it provides visual voicemail and text messaging, local Wi-Fi connectivity, e-mailing and web browsing. For Internet connectivity, it is inbuilt with EDGE (Enhanced Data rates for GSM Evolution) technology that provides three-time faster connectivity than GPRS (General Packet Radio Service).
Before launching it in Indian market, Apple has estimated to sell 10-millions of mobile phones, which at present seems a tough job viewing the Indian's response as most of the people are looking towards the gray market because of its astronomical price.
Earlier, the Telephone Regulatory Authority of India (TRAI) has reported that India mobile market can reach to 500-million mark by 2010. So there are huge chances of mobile companies to fetch the Indian market.
LATEST IMAGES

MORE...
Social bookmark this page
Post comments: