Left Frontā??s meeting with UNPA signals the end of Nuclear Deal
New Delhi, Tue, 23 Oct 2007
NI Wire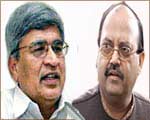 Oct 23: The India and United States civil nuclear deal seems for heading towards a stiff downfall as the Left is now searching options outside UPA to avoid an early election. The Left party is now trying to gather the support from the newly formed third front United National Progressive Alliance or the UNPA in order to keep a possibility open for a larger opposition to the deal.
On Tuesday, the CPM General Secretary Prakash Karat met Samajwadi Party leader Mulayam Singh Yadav, Amar Singh and TDP President Chandrbabu Naidu to call a special session of parliament but that has already sent a clear smoke of the reason to fire.
While avoiding media persons just after the meeting all Karat said, "I have briefed UNPA leaders about nuclear deal so that we have a common stand".
Reportedly other leaders of Left Parties may soon meet members of UNPA on the opposition of Nuclear Deal. Meeting of all members of third front would be taken place this evening.
With this meeting the Left Parties are trying to create a podium of political parties to strengthen their opposition to the deal. This certainly makes a sense of uncertainties as far as Congress and other UPA alliance like RJD and NCP are concerned.
Left from the last couple of weeks was trying to bring out from Congress's mouth that the deal is put on hold but Congress instead after attending UPA-Left committee meeting on Monday only clarified that operationalisation of the deal will be considered after the committee's findings. The next meeting of the committee is on November 16.
In fact the very term operationalisation stands different for both Congress and Left. According to Left, operationalisation of the deal starts if the government proceeds with any kind of negotiation with the IAEA but Congress sets this only with the US Congress voting. Hence the government wants the left parties to allow at least for further talks with IAEA. But Left has categorically denied any such development.
Under such circumstances with Left's no-tilt stand, it seems the time has gone to start further talk on the deal and a general election is round the corner if Left Front withdraws its outside support.
The Left Front constituting four main leftist parties CPM, CPI, RSP and All India Forward Block holds a total of 59 seats in the lower house, Lok Sabha. But it is still not possible to avoid an early election with one-and-a-half years remaining for polls and other supporters like RJD, NCP and BSP did not have any candid opposition to the deal.
LATEST IMAGES

MORE...
Social bookmark this page
Post comments: