The Big Economy of Small form of Cricket
New Delhi, Tue, 25 Sep 2007
NI Wire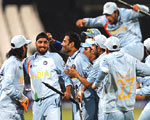 Sep 25: It's now party time for Indian cricket team and the entire country as India defeated Pakistan by 5 runs in the shortest form of cricket World cup. But this shortest form transformed into the biggest moment for the Indian Cricket Team includes the supporting staff as the 'Dhanvarsha' (Rain of Money) begins for the Indian team individually and team as a whole. Twenty20 crickets also proved the money coffers for the broadcaster of the tournament.
After capturing the inaugural T20 world cup, Board of Control for Cricket in India, BCCI has announced a price of $2 million for the entire team while 'Six Man' Yuvraj Singh would get Rs. 1 crore for his spectacular performance throughout the tournament that includes 6 sixes in the Six balls fired against the England Team in the super 8 match of the tournament. Yuvraj will also get a car from the BCCI.
Besides this, the ultimate bowler of the grand final match, Joginder Sharma will get Rs 21 lakh as a reward for taking 2 wickets each in semi final and final from the Haryana government. Maharashtra government has decided to gift the reward of Rs.10 lakh each to Ajit Agarkar and Rohit Sharma, while Karnataka Government will gift Rs. 5 lakh each as a reward to Indian opener Robin Uthappa and balling coach Venkatesh Prasad.
Telangana Rastriya Samiti, TRS president K Chandrashekhar Rao has announced a cash award of Rs.1.16 lakh each to Indian skipper and wicketkeeper Mahendra Singh Dhoni, Irfan Pathan and Opener Gautam Gambhir. UP government has announced to gift Rs. 10 lakh as a reward to Indian influential medium pacer Rudra Pratap Singh and an honour of 'Kashiram International Sports Award'. Delhi government has announced to gift Rs. 5 lakh each to the most successful batsman of the tournament from India Gautam Gambhir and Multan ka Sultan Virendra Singh Sehwag as a reward.
Civil Aviation Minister Praful Kumar Patel has announced to provide free aviation facilities for five years to six players include the management team. These players are Skipper Mahendra Singh Dhoni, Vice Captain Yuvraj Singh, medium pacer Irfan Pathan, R P Singh, Opener Robin Uthappa and Gautam Gambhir. Kerala government has announced a cash prize of Rs. 5 lakh to fast bowler Sridhar Sreesanth.
Sahara India has announced to provide a flat to each member of the winning team. Sahara India is the officially sponsor of the team India.
On the other hand, another mega player of the sports that do not play the match but broadcast it in the entire country and abroad have earned an estimating value of Rs. 200 crore during the 15 days broadcasting of the tournament. This figure is much higher than the Ten Sports' figure during the World Cup tournament coverage.
According to sources, Yesterday was the richest day for ESPN and Star Sports duo because of the dream conflict between the two traditional rivals of Asia, where Cricket is like a religion.
Media buyers says that ESPN-Star Sports (ESS) has asked a record of Rs. 7.5-10.0 lakh for per 10 second that is all time highest in the Indian broadcast history. It is estimate that both channels have earned jointly Rs.110-115 crore through ad sales alone. Sponsors had contributed approximately Rs. 40 crore while rest of the money comes from stand-alone spot sales. The TRP of the channel is also becomes higher 15-20, sources said.