Symptoms of Diabetes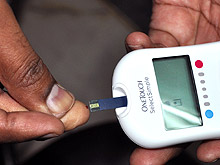 NI Wire, Thu, 2 May 2013
Diabetes is one of the handfuls of diseases that truly became nightmare of modern healthcare in the recent times. Diabetes is mainly of two types, respectively as type 1 and type 2. The symptoms of Diabetes though are grossly similar in both types of Diabetes there are significant differences as well in their manifestation. While the type 1 diabetes is the outcome of a medical condition that has not much to do with lifestyle, type 2 diabetes is mainly the outcome of several sedentary lifestyle factors or medical conditions pertaining to such lifestyle. Let us have a glimpse at the definition and types of Diabetes before seeing the symptoms.
Symptoms of Arthritis


NI Wire, Wed, 1 May 2013
Arthritis which is the most common muscular skeletal disorder to make millions of people suffer all over the world can be of various types as per symptoms and manifestation of the disorder. Though muscular or joint pain or difficulties experienced in body movements are experienced as the common symptoms of arthritis, clinical examination can ascertain numerous types of arthritis as per the contributing factors or skeletal condition in the joints. Some of the major types of arthritis are osteoarthritis, rheumatoid arthritis, gout, infectious arthritis, psoriatic arthritis and juvenile idiopathic arthritis.
Symptoms of Kidney Stone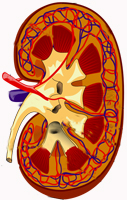 NI Wire, Wed, 1 May 2013
Kidney stone as per clinical understanding is a stone formed in the kidney due to excess calcium deposit over the years. The symptoms of kidney stone are not always something clinically severe or painful enough to be regarded as symptoms as in many people kidney stone is common but unless and until the movement of the stone within the kidney or in the tubes of the urinary tract causes pain it is not medically considered as a disorder.
Scientists identify drug-resistant malaria parasites in Cambodia



NI Wire, Mon, 29 Apr 2013
Scientists have discovered new drug-resistant strains of the parasite responsible for causing malaria. These malaria-causing parasites were found in western Cambodia and have found to be different from the other strains present across the world. The researchers also found that, these parasites have the ability to withstand treatment by artemisinin - a frontline drug in the fight against malaria.
Need to bring various health care systems on a single platform: Dr. Walia


NI Wire, Fri, 26 Apr 2013
Dr. A.K.Walia, Hon'ble Minister (Health & Family Welfare) Govt. of NCT Delhi has said that there is need of integration of all forms of medical sciences for obtaining holistic health & appreciated the effort of Health Dept. for bringing various health care systems on a single platform.
More Stories