A record 57 per cent drop in HIV cases in India



NI Wire, Sat, 1 Dec 2012
Now there is good news for India on the day of the World Aids Day as there has been a 57 percent drop recorded in the number of HIV infections in India. The decreases have been witnessed in the last decades, which is certainly a good cause to be smile for India in the context of AIDS patients.
Exercise, mental activity is essential to brain health



NI Wire, Thu, 29 Nov 2012
A recent Australian research has found that physical exercise is as important as mental activity in keeping the brain fit and healthy
Mahabodhi temple to open hospital, medical college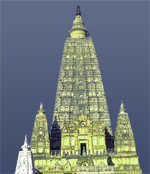 NI Wire, Thu, 29 Nov 2012
Bodh Gaya's Mahabodhi temple which is considered holiest shrines for Buddhists contemplating to set up a world class hospital and medical college with international financial aid in the holy town in Bihar, said an official said Wednesday.
Immune system gene could subdue HIV and hepatitis



NI Wire, Tue, 27 Nov 2012
In a major development on the front of treatment of HIV and other chronic infections, the researchers have found that a gene protecting the human embryo could possibly treat and subdue chronic infections such as HIV, hepatitis and tuberculosis.
China to produce high-calibre doctors



NI Wire, Tue, 27 Nov 2012
China has started a 10-year educational programme to prepare more high-calibre doctors and train more general medical practitioners to serve the people in rural areas.
More Stories