Happy Romantic Valentine's Day
The Happy and romantic Valentine's day is celebrated across the world on 14th February every year and is the most awaited day of the year, especially for the young couples. Beyond any cultural or religious influences, valentine day signifies the importance of an individual or a relationship among a group of people. This is the best time to express your love to the love of your life with feelings of love, care and affection for those who made their lives special.
The Christians celebrate Saint Valentine's Day or Valentines Day across the world in the honor of Saint Valentine, a Christian priest who helped lovers to get married during the era of Roman Emperor Claudius in 270 AD. But with time, the occasion has surpassed the boundaries and cultures and is celebrated all over the world as a day of love.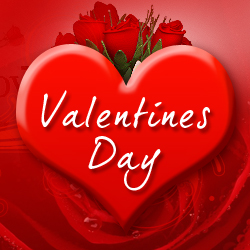 With the beginning of February love couples start gearing up their plans for the valentine day to make the occasion memorable and special for them. The couples share their love and care to the loved ones with the help of gifts, cards, chocolates, hug and kisses during this occasion to make the bonding stronger.
To make the occasion more interesting and cherishing, Valentines week is celebrated across the world which starts from 7th February with the celebration of rose day and followed by Propose Day, Chocolate Day, Teddy Day, Promise Day, Kiss Day, Hug Day and finally VALENTINE'S DAY on February 14. Each day of the valentine's weeks has some specific significance and hence you can celebrate each day with your love one to make the occasion of valentine day more special at the end.
Today, Valentines Day is one of the most awaited days especially for the youths. This is the best time to show that special someone in your life how much they mean to you. This occasion provides you splendid opportunity to spend some quality time with you true love and make him or her feel that how much you can for them and how special he or she is for you. You can do this by sending a beautiful greeting card, planning a candle light date, love letters, gifts and much more.
So, great ready to pour your love to your loved one by planning different things for the Valentine's day. Let you love know how special he or she is for you by giving him or her a pleasant surprise in the form of a gift, a dinner or something more interesting. Have a wonderful and memorable Valentine day 2012.
View Happy Romantic Valentine's Day News