4. Indian Cricket Team and World Cup - 2011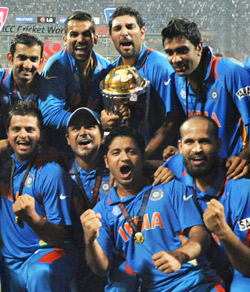 The Indian cricket team is continuously in the headlines as it usually it retains every year for its game (and non-game too.). But this year is truly for Indian Cricket Team as in this year, the team has achieved several milestones like winning the world cup - 2011 after the draught of 28-years and also reaching on the top in ICC cricket test raking for the first time.
The one-day Indian cricket team powered with the mix of young and experienced players created a history by winning the world cup cricket championship 2011 by defeating the archrival Sri Lanka in the final. This series proved vital for many cricketers including Yuvraj Singh (Man of the series), Virat Kohli (Best new comer cricketer), Mahendra Singh Dhoni (Man of the final) and Sachin Tendulkar (who won first world in his 22 years long career).
Besides World Cup, Indian won most of the series except South Africa and England tour matches.
Sachin Tendulkar made several other records while Rahul Dravid restored his 'most trust worthy' Test player in this year.
Mahendra Singh Dhoni become only the second captain after Kapil Dev by winning the ODI World Cup, but become the sole captain who has won T20 World Cup, ODI World Cup and two times IPL Championships.
Yuvraj Singh's dying career revitalized in the World Cup and he became the 'gem' of the Indian cricket team by showing all rounder performance. He also got place in the Test Team.
View 4. Indian Cricket Team and World Cup - 2011 News